How important is Wednesday's presidential debate between Mitt Romney and Barack Obama?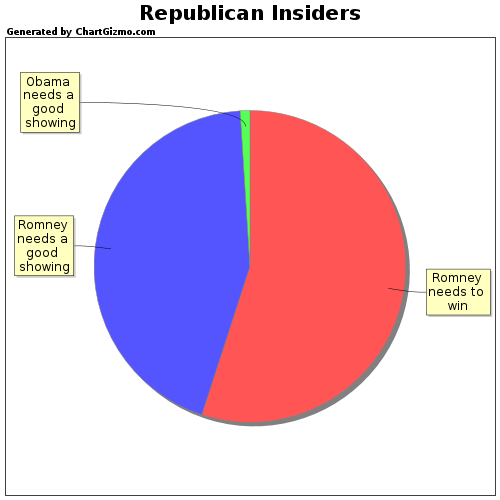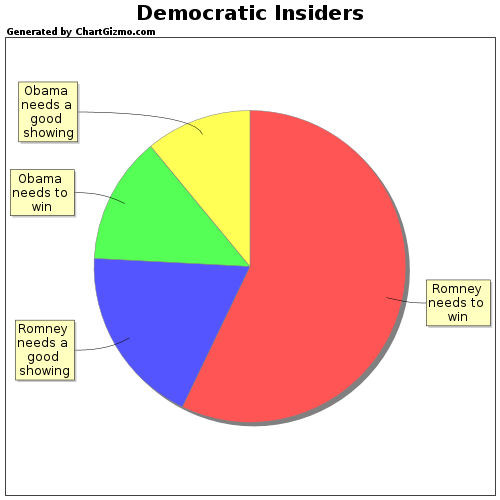 Some anonymous comments:


Both candidates need to show they have and can articulate plans for America's future... not simply scoring political points, something media pundits will surely zero in on.

Obama faces the same dilemma Gore did in 2000. That is, how do you elevate your opponent sufficiently that when you go after him you don't look like a "school yard" bully. Gore didn't do it the right way. Hope Obama does. And, of course Mitt might just be the revealing "twit" he is.

With the latest poll numbers, Romney has to make a good showing to turn around his declineRomney goes in as an underdog. The pressure on him is enormous. It's his last best chance to win.

Romney needs to win big to have a chance in this election. Looking at the recent polls, Obama should stay ahead if he does a credible job.

Romney's star is fading . . . I can't imagine a scenario where the debates could hurt the President's reelection.

If he is to close the gap with Obama, Romney needs to 1) keep to his script and not be allowed to say the first thing that comes to his mind - that has gotten him in lots of trouble, 2) demonstrate to moderate Americans that he repudiates the excesses of the Tea Party and the rest of the far Right, 3) show some empathy to the 47% that he so casually denigrated, 4) show some sense of understanding Americans who are neither rich, privileged, or white. He may be capable of doing all those things, but would probably lose much of his extreme-Conservative superPAC support if he does it.

As long as his handlers can keep Romney from asking why aren't there screen doors on submarines, the GOP has a chance of making up some lost ground.

If Obama doesn't get TKO'd then the race is OVER.

For Romney to have a chance in the election, he must come out the clear winner. A mediocre showing or a draw and it's good night Irene; he won't have a chance.

This race is too close for Obama to not hit it out of the park. Romney has been stepping all over his tongue lately, but there needs to be an obvious difference shown between the two candidates. (Which I'm sure there will be, as Romney doesn't have a firm grasp of any issues, in my opinion.)

If Romney is not the clear winner, his campaign will continue to lose steam and the lead Obama appears to building in swing states will increase exponentially.

It has not been the best of weeks for Romney and there is beginning to be a losing narrative. I believe the polls are much closer, but Romney needs the kind of boost a clear victory could give him. It will have to be a very obvious victory or the press will not recognize it--perhaps even then.

The debates will help shape the news media dialogue for the next two weeks.

The rails are coming off the Romney campaign. A win or even a good showing by Obama will help put the nail in the coffin. Of course, this only applies to all states except Utah where people will vote for Romney no matter what he does or says.
Who do you think stands the best chance of winning the first presidential debate?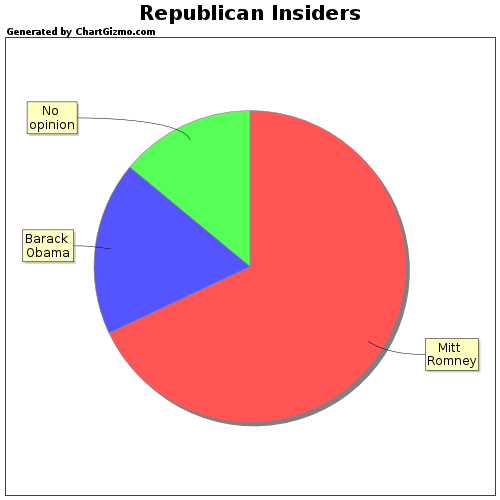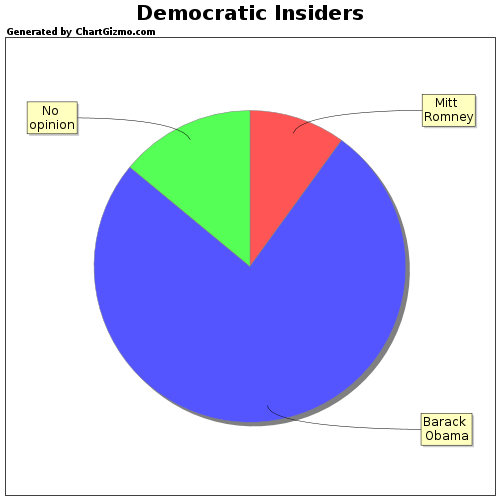 Some anonymous comments:
Romney is doing his best to kept his real political beliefs hidden... or he simply may not have any. He says whatever will get him elected... He is more an actor than a true political leader.

"Wins" are unlikely due the spin machines the minute it ends.

I'm certain Mitt would make a great president, but he just can't seem to relate to the "regular' guy.

I haven't seen any evidence that Romney is really good on his feet.

I don't think Romney can keep his thoughts together for the duration of the debate. He will probably contradict himself mid sentence a number of times.

He (Obama) has the advantage of incumbency. He knows the details of the job, particularly foreign policy. A great deal depends on the questions and how much the moderator presses them for specific answers.

The President is an extremely eloquent and accomplished public speaker who thinks well on his feet. In past weeks, Mitt Romney has caused huge difficulties for himself every time he strays off script.

They should both be good debaters.

Mitt has been debating all through the Primary Season but Obama is a masterful speaker. It will be close.

Winning will be in the eye of the beholder. But Obama has the clearest plans and explanations and has the gift to deliver his lines much better than Mitt. I think Obama will win 60-40 and the debates coming up will only confirm his better fit for the presidency.

The President is clearly the most well informed and most articulate candidate. He will make mincemeat out of Romney. Just watching the small clips between the two run by Brian Williams in regard to education showed how simplistic Romney was in his assessment, and how much more complex the President's views were.

Obama has a better handle on the issues and is better on his feet. The debates are about style and presentation rather than substance (unless someone screws up badly on an issue like Gerald Ford). Romney might be prettier but Obama is smarter and quicker.

Romney isn't good off the cuff. He will use his prepared statements and trot out the same old bullet points but when it comes to really answering the tough questions, he can't pull it off.
---
Respondents include - 
Fred Adams, Stuart Adams, Jess Agraz, Scott Anderson, Laura Arellano, Patrice Arent, Bette Arial, Neil Ashdown, Bruce Baird, Tom Barberi, Heather Barney, Steve Barth, Jeff Bell, Tom Berggren, Mike Bertelsen, Ron Bigelow, Emily Bingham-Hollingshead, Rob Bishop, Laura Black, Nanci Bockelie, Charles Bradley, Jim Bradley, Ralph Brown, Chris Bleak, Curt Bramble, Joel Briscoe, Ralph Brown, Aaron Browning, Ken Bullock, Ric Cantrell, Maura Carabello, Marty Carpenter, Rebecca Chavez-Houck, Kay Christensen, David Clark, Kim Coleman, Peter Corroon, Tim Cosgrove, Fred Cox, Lew Cramer, Gene Davis, Richard Davis, Brad Daw, Alan Dayton, Margaret Dayton, Mike Deaver, Brad, Dee, Joseph Demma, Jake Dennis, Dan Deuel, Jeff Dixon, Brian Doughty, Carl Downing, Randy Dryer, Susan Duckworth, Donald Dunn, Alan Eastman, Becky Edwards, Scott Ericson, Chase Everton, Jessica Fawson, Janice Fisher, Wendy Fisher, Lorie Fowlke, Ronald Fox, Claire Francis, Ryan Frandsen, Adam Gardiner, Jordan Garn, Ernie Gamonal, Luke Garrott, Dave Gessel, Sheryl Ginsberg, Natalie Gochnour, Robert Grow, Karen Hale, David Hansen, Neil Hansen, Joe Hatch, Jeff Hartley, Dan Hauser, Lynn Hemmingway, Deidre Henderson, Neal Hendrickson, Casey Hill, Lyle Hillyard, Kory Holdaway, Randy Horiuchi, Ben Horsley, Bruce Hough, Scott Howell, Greg Hughes, Miriam Hyde, Allison Isom, Casey Jackson, Eric Jergensen, Mike Jerman, Jonathan Johnson, Michael Jolley, Gordon Jones, Leslie Jones, Pat Jones, Kirk Jowers, Jeremy Keele, Brian King, Scott Konopasek, Steve Kroes, Chris Kyler, Carter Livingston, Fred Lampropoulos, Clark Larsen, Douglas Larson, David Litvack, Larry Lunt, Matt Lyon, Ben McAdams, Daniel McCay, Gayle McKeachnie, JT Martin, Maryann Martindale, Jason Mathis, Bob Mayhew, Karen Mayne, Bret Milburn, Derek Miller, Rob Miller, Ethan Millard, Brett Millburn, Karen Morgan, Jeffery Morton, Mike Mower, Holly Mullen, Wayne Niederhauser, Mike Noel, Randy O'Hara, Ralph Okerlund, James Olsen, Val Oveson, Kelly Patterson, John Pearce, Helen Peters, Karen Peterson, Frank Pignanelli, Becky Pirente, Marie Poulson, Jason Powers, Tami Pyfer, Joe Pyrah, Mike Reberg, Jill Remington Love, Lauren Richards, Holly Richardson, Robin Riggs, James Roberts, Luz Robles, Ross Romero, Carol Sapp, Don Savage, Bryan Schott, Shauna Scott-Bellaccomo, Jay Seegmiller, Jennifer Seelig, Patrick Shea, Randy Shumway, Soren Simonsen, Jeremy Slaughter, Brendan Smith, Brian Somers, Carol Spackman-Moss, Robert Spendlove, Barbara Stallone, Howard Stephenson, David Stringfellow, Mike Styler, Shinika Sykes, Juliette Tennert, Gary Thorup, Kevin Van Tassell, Royce Van Tassel, Doug Thompson, Michael Waddoups, Laura Warburton, Chuck Warren, Christine Watkins, LaVarr Webb, Todd Weiler, Alan West, Mark Wheatley, Larry Wiley, Ted Wilson, Carl Wimmer, Mike Winder, Travis Wood, Thomas Wright, Crystal Young-Otterstrom
Results from the UtahPolicy.com/KSL Insider poll can be heard on KSL Radio every Friday and are published on Utah Policy.com every Monday.