Mitt Romney's voters are angry, disappointed or sad about the outcome of the 2012 election, while Barack Obama's backers say they are excited.
A YouGov poll
finds 52% of Romney's voters describe their reaction to the election as "angry" while 85% say they are "disappointed." 60% say they are "sad" and 79% say they're "worried." On the other hand, Barack Obama's voters say they're "excited" (60%), "satisfied" (69%), "happy" (68%) or "relieved" (67%).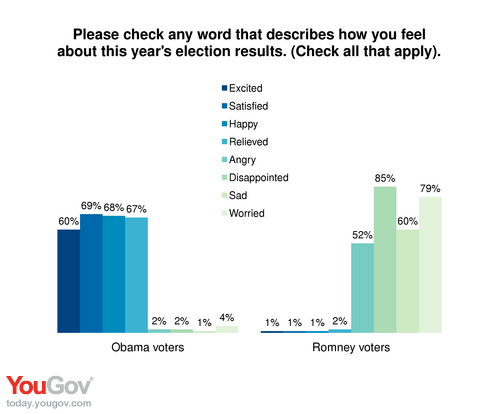 The same poll finds 87% of Obama voters and 90% of Romney voters say they never considered voting for the opposition.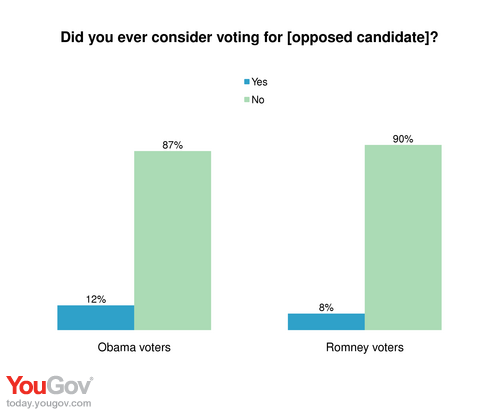 Equal percentages of each candidate's voters say they would have wanted a somewhat different kind of candidate than the one they supported: 11% of the President's voters said they would have liked a candidate with the Democrat's views on social issues and the Republican's views on economic issues, while 13% of Romney's voters wanted their candidate's economic positions paired with the President's views on social issues.

Attitudes about the two men changed little post-election. President Obama did somewhat better than Governor Romney when it came to his overall favorability rating, though 47% of registered voters continue to hold an unfavorable view of him. 52% think negatively about Romney. The President fares better than Romney on both likability and sincerity. But those percentages have changed little since before the election.